The News
Virgil van Dijk: & #39; Some suggest that I make it easy, but every game is difficult & #39;

TO A player praised just as the modern middle half appreciates All aspects of life are in position, whether it's the aesthetic side of the game or the more agricultural. Virgil van Dijk and his dying, wall-back defense don't seem like an obvious bedmate, but he rejects the idea that his modern siblings don't embrace him.
"I think it happens to us a lot," he says. "Look at the 2019 Champions League, final. We can score a goal and the opponent is trying to do everything possible to try and win the game. We were against the wall against Tottenham in Madrid, and yes, this is a different situation than we normally have because yes, we usually attack and push forward, but there are times when we have to fall and organize. and you should enjoy this part of the game.
"You want to move forward, lose the ball high, but win very high and lead. I want to get off the court thinking that I can play again. It would be the perfect game, because it meant we were all perfect, we all did our job; but I definitely enjoy those difficult moments.
"That season we played Napoli, which should have won in the group stages. Eventually we were 1-0 high and we were really under pressure, but Allison deliberately managed to rescue by saying, "One target, we're out." When Allison made that save, I went to him and celebrated the way he threw! It feels very important and helped us win the Champions League. I enjoy both sides. Still, I prefer to be comfortable. Maybe just me.
"Look at game two of the semi-final against Barcelona. Three goals dropped, then four up, we got out of the game because we knew only one goal. It was incredible to keep a clean slate that night against Lionel Messi, who I thought would be playing the best game ever. '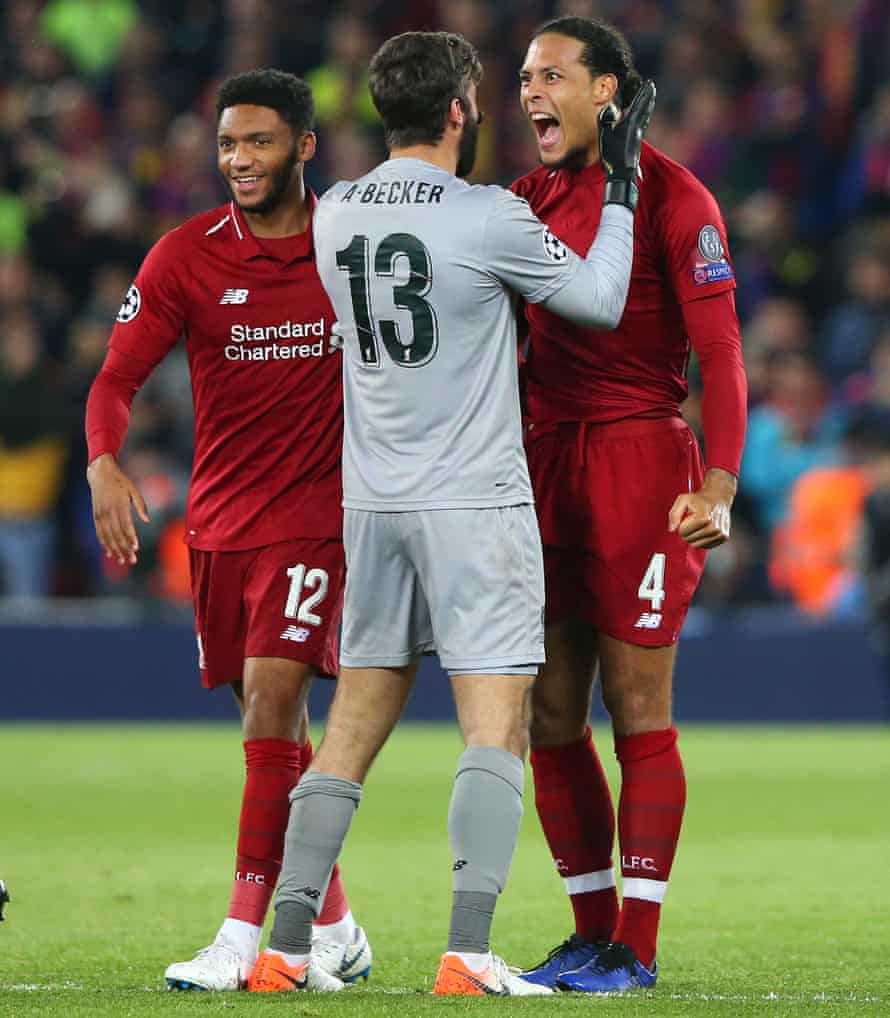 Tactical fouls come from the back and midfield players when the lines in front of the center defenders are broken. Today, the middle half is called to "stand on your feet", told not to overcome it, but as the last line of defense and with viewers longing for the old hard and rolling of a mid-half game, is it still there? Tricks of swap that freak out fans and strikers alike?
"First of all, we have face cameras on us!" Says Van Dijk. "I personally don't like hurting people for me. I just want to play fair and win. This is me. I am not a man who would try to win with different tactics.
"Some people suggest that I make the game look easy, but trust me, every game is very difficult. We play with strikers around the world, very physical strikers, and I never think 'This is easy'. Maybe I want my opponent to think I am. Look at Roger Federer. If you see him playing tennis, you would think he is not sweating. It must be very difficult for his opponent who, mentally, thinks he is not trying.
"Sometimes I think that way. Try to come to the head of the opponent, not by talking to him, not kicking him, but trying to make him think that if he is going to play well today or he is going to score, he should take a step. Yes, you have to be sure of your own talent, otherwise people will walk on you. There are other ways to win games; You don't have to fire or curse people. "
The modern middle half wanting to play is still met with some degree of suspicion. A British middle half picks up the ball, looks for the pass, wants to get the pass back, moves things forward, smiles, graces politely, but often thoughts run to the worst case scenario. "A mistake waiting to happen," the murmur comes.
Van Dijk does not do this. "The position is more important today. Much more. Nowadays, playing from behind is a big thing, especially for teams that like to own the ball. Larger teams in world football want to have players who are comfortable on the ball, even in and around their own boxes. Being under pressure can be of great help to players getting into the ball.
"During the day, maybe the middle halves were expected not to be involved. Give the ball to the midfielders and then your job is to make sure the defensive organization is there and defend the target. Now everyone is involved. You still have to do these tasks, but there is much more demand from the defenders and the position has improved. The position of the waiters is also changing, they are almost like wingers in our Liverpool team, but they also have to defend themselves. The game has been developed. I enjoy every bit of it. I am a player who likes to have the ball and I hope I will make good decisions that will help the team not only on defense but also offense.
"We have Alisson who isn't afraid to pick Rust. The most important thing is to do this when you think you can, not be smart for it. If I feel under pressure and sense danger, I can tell Alisson to throw the ball forward and we play for the second ball. We have that variety, we can mix it up by playing short and long. This is one of our important and real strengths.
"We can adapt. At the end of the day, you are in charge. If I want the ball and make a mistake, it's my fault. If I feel it's not going right, I don't want to put myself in that situation. Why did you do? To look good? Not possible! "
Excerpt from You Cannot Pass: The Anatomy of Football's Center-Half by Leo Moynihan (Bloomsbury, £ 16.95). It can be purchased immediately.